Team
Vahn Alexander, J.D. | Broker Associate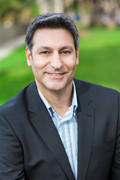 Vahn works with Buyers, Sellers and Investors throughout the Los Angeles area and with his legal background he is particularly well suited to help Clients with their PROBATE, TRUST and CONSERVATORSHIP transactions. A California native, Vahn has lived in Brentwood, Santa Monica, Marina Del Rey, Venice, and currently Pacific Palisades. As a result, he is very familiar with each of these areas which is a valuable asset for his Clientele. No stranger to hard work and commitment, Vahn received a B.A. in Political Science/International Relations (with a focus on Economics) from UCLA and his J.D. from Loyola Law School, Los Angeles.

During his legal career, Vahn litigated complex civil actions in State and Federal Courts throughout the Country, and developed a nationwide network of professionals in the process. He participated in the negotiation and documentation of settlements totaling over $125 million. This gives him a particular advantage as a Real Estate Agent, since he is used to advocating his Clients' interests on their behalf, and law is undoubtedly a critical component in any real estate transaction. Over the years, Vahn has developed exceptional negotiation, communication, research, and problem solving skills, all of which benefit his Clients. See TESTIMONIALS.

Vahn's affiliation with Berkshire Hathaway HomeServices, one of the nation's largest full service real estate brands, provides him with the benefits of the latest technology and resources, including his Team members listed below. As a result, regardless of the size of the transaction, he brings an extraordinary amount of resources, background and skillset to the table, and provides a sense of honesty, integrity, and professionalism as a Real Estate Agent and consultant to his Clients.

Vahn is a member of the NATIONAL ASSOCIATION OF REALTORS® (GREEN DESIGNATION, PRICING STRATEGY ADVISOR (PSA) and e-PRO® CERTIFICATIONS), the CALIFORNIA ASSOCIATION OF REALTORS®, the BEVERLY HILLS/GREATER LOS ANGELES ASSOCIATION OF REALTORS®, and the STATE BAR OF CALIFORNIA (Trusts and Estates Section).

During his free time, he enjoys biking and hiking locally, and is an avid FORMULA 1 race fan, having attended races throughout the world. Vahn is also a member of the PETERSEN AUTOMOTIVE MUSEUM and enjoys going to car shows and concourse events throughout California whenever possible.

Contact Info – 310.345.3378 | Email


Frank Campbell | Marketing Coordinator
Frank has been in the real estate business for over 15 years and he is our Marketing Coordinator. Not only does Frank play a primary role in the national and international marketing of each transaction in both print and digital formats, his duties also include that of office administrator, transaction and listing coordinator. Frank also brings a level of professionalism and attention to detail which is a great asset for our Clients and our Team.

Contact Info – 310.207.7080 | Email


Karon Auble | Transaction Coordinator – Office Administrator

Karon has been in the real estate business for over 25 years and has worked for major real estate brokerages throughout the area during that time. As our Transaction Coordinator and Office Administrator, Karon plays a critical role in assuring that each file is complete and properly organized. She also has extensive experience in real estate documentation, disclosure requirements and the inclusion of any and all necessary reports required which is instrumental to the completion of any real estate transaction. Karon's abilities not only benefit our Team but our Clients as well.

Contact Info – 310.207.7080 | Email

Stephanie Wolf | Pickford Escrow – Director of Operations

Stephanie has been in the escrow field since 1997 and with PICKFORD ESCROW (a Berkshire Hathaway HomeServices Affiliate) since 2000. She currently serves as Pickford's Brentwood Branch Manager and Escrow Officer, regional Director of Operations for Los Angeles County, Relo Escrow Director, and is on Pickford's advisory council. Aside from her family, Stephanie's other passion is escrow and it clearly shows in every real estate transaction she is involved with. Her vast experience and hard work insures that all parties have the best possible experience concerning their real estate transaction which makes her an important asset to our Team and our Clients.

Contact Info – 310.571.3688 | Email

Mark Medina | California Title Company – Regional Sales Manager

As a top sales representative in the Title Industry for the past 20 years, and Vice President and Regional Sales Manager for CALIFORNIA TITLE COMPANY (a Berkshire Hathaway HomeServices Affiliate), Mark brings over 20 years of experience to any real estate transaction. Over the years, Mark has built a professional reputation on his commitment and dedication to strong customer relationships and quality service. With his positive energy and strong follow-through, Mark is certainly an asset to our Team and our Clients.


Contact Info – 818.404.0743 | Email

Tim Swan | Brentwood Branch Manager

Tim is a graduate of the University of Texas at Austin, with a degree in Communications, has been in real estate for over 13 years, and is the Branch Manager of our Berkshire Hathaway HomeServices Brentwood Office. After working in the entertainment industry for over 17 years, Tim began his career in real estate in 2002. He has worked extensively with older/historic, and architectural properties located in and around Historic Preservation Overlay Zones (HPOZ), properties registered as landmark and/or Mills Act Status, and those of historical significance in greater Los Angeles. As a Manager, Tim understands both the creativity of marketing a property and the finer points of completing a deal. Tim also brings an intimate knowledge of each Los Angeles neighborhood, including many of the city's "best kept secrets." These factors, together with his hands-on management style, add great value to any real estate transaction that he oversees.


Contact Info – 310.207.7080 | Email